Palette Knife
Information
Palette Knife is a palette creation tool which allows both programmers and artists alike to build colour palettes, organise/combine existing colours and form new palettes.

Improved UI
Palette import from LOSPEC URL's
Export Palette as Gradient (Amiga Copper Style)
Multi-Directional Gradient Ramps

Microsoft RIFF / PaintShop Pro JASC Palette files supported
ZX Next RGB333 supported
Bit Depth can be set from RGB111 up to RGB888
Auto Bit Depth Remap on Palette Load
6 Workable Palettes On-Screen at all times
Export 8-bit BMP Image of the Palette Grid
Brush Mode to Grab Palette colours
Copy colours from Palette to Palette
Rotate and X/Y Flip Palette Colours
Credits
Various Palettes
: AAP
: Arne
: Dawnbringer
: Endesga
: Fleja
: Flyguy
: GrafxKid
: April Sundae
: Pinetree Pizza
: Lux
: Formal Prejudice
: Sunset Moth
: MortMort
: Purple Fruit
: Zughy
: Nauris
: Kerrie Lane
: PixelJoint
: Smalls
: Reo
: Windfall Apples
: Yahkehbu
: RealJuice
: Polyducks
: Arilyn
: Phot0n
: Vinik
: Lospec Colab.
: Luis Miguel Maldonado
: Vine2D
: Slynyrd
Palettes downloaded from : https://lospec.com
Contact
web: https://zingot.com
mail: zingotgames@gmail.com
Purchase
In order to download this tool you must purchase it at or above the minimum price of £2.50 GBP. You will get access to the following files:
Palette Knife 1.0.0.75.exe
3 MB
Palette Knife 1.0.0.75.zip
3 MB
Comments
Log in with itch.io to leave a comment.
Is there any other payment method? My payment always fails.
This is a really sweet tool, but I can't open .pal files that work in other software.
UPDATE: I tried to open a PAL file I downloaded from lospec and it did not work (perhaps I modified the file at one point). But, the PAL I wanted ended up already being included with the download file, so I got what I needed afterall :-)
Yeh it's the Microsoft palette format that it accepts, it doesn't check headers or anything to determine other palette types. I should probably look into this. Glad you found your required palette anyway though lol.
Now supports JASC / RIFF palette format ;)
It's not a bad tool, I like what I'm seeing so far. I'd love to have the ability to punch in hex codes or be able to manually punch in RGB/CMYK color codes. As fiddling around with the scales can be a bit time-consuming.
I'll definitely take this into consideration for a future build :-)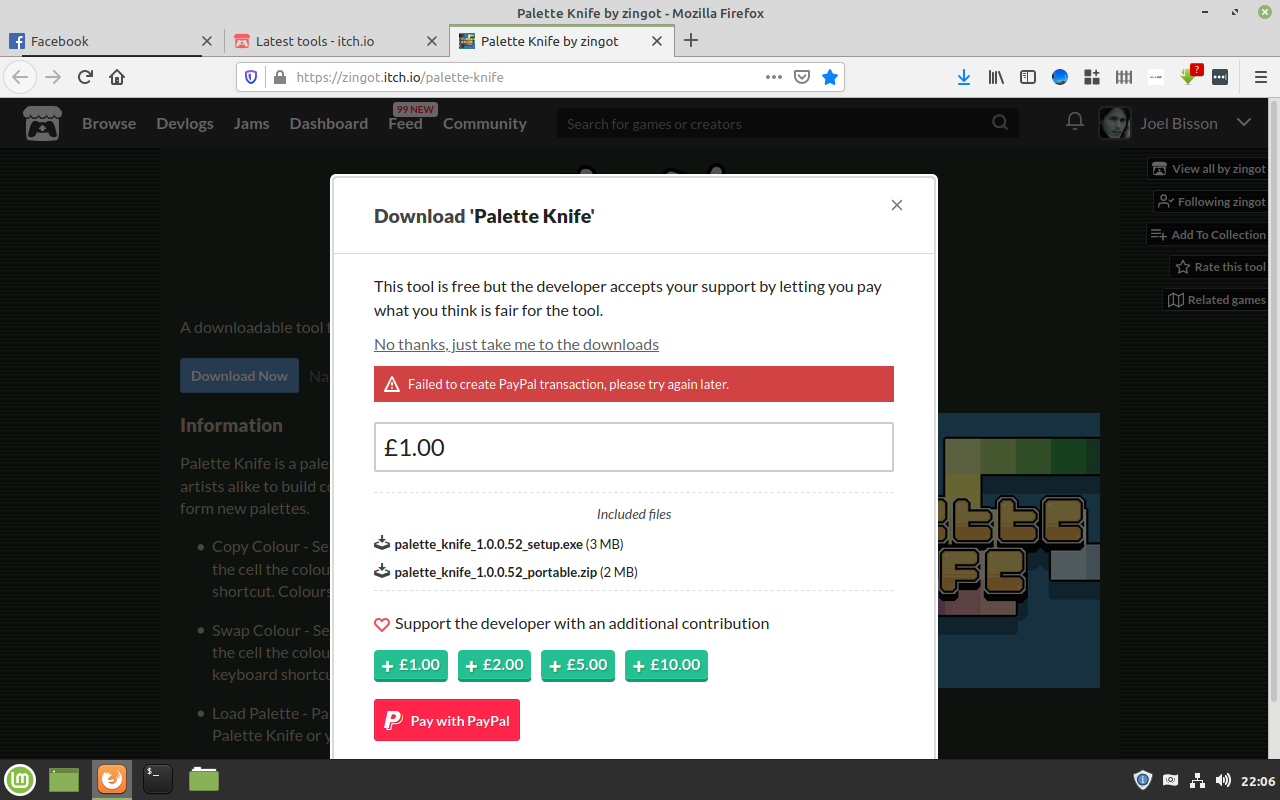 You need to agree to the new terms and conditions to get a business paypal from which you can receive payment. Please make this buy-able.